Technical specifications
Quadrio is full of smart technical solutions that you may not ever see, although they take care of your comfort, safety and cost savings every day. Efficiency in every detail has become a key feature of this office building.
Possibility of open and closed office layout
Clearance 3.00 m of office space
Ceilings with integrated / hanging lights
Sprinklers
Electronic fire alarm
Evacuation tannoy
Double floors with floor boxes
Possibility of connecting diesel backup power supply
Glazed facade with openable window elements
Central air conditioning
Chilled beams integrated in the false ceiling with individual control
Heating convectors in double floors
Fibre optic cabling
FACILITIES AND SERVICES
Separate entrance to the office of the building with a central reception
Four passenger lifts for the office part of the building
Possibility of using storage space in the basement
Wheelchair access
Shopping center
Restaurant
SECURITY
EElectronic card access system and CCTV in building; 24/7/365 access
CCTV in common areas
Continuous surveillance of building
PARKING
Parking in the basement
250 parking spaces
Building certification
Quadrio building received in April 2015 a prestigious LEED Silver certification.
LEED (Leadership in Energy and Environmental Design) provides independent verification that a building or set of buildings was designed and built using strategies aimed at achieving high requirements in key areas of human health and the environment, such as sustainable building, water savings, energy efficiency, selection of appropriate materials and indoor environmental quality. LEED rating system was developed by the US Green Building Council (US Green Building Council, USGBC) in 2000.
Professional Building Awards
Quadrio became the winner of the "Best of Realty – Best of Realty" for 2014 in the category of New Administrative Centre
Typical floor plan
The total size of the office space is 16,400 square metres. With the combination of the unusual floor plan and modern technology solutions Quadrio is much more efficient than most Class A buildings in Prague.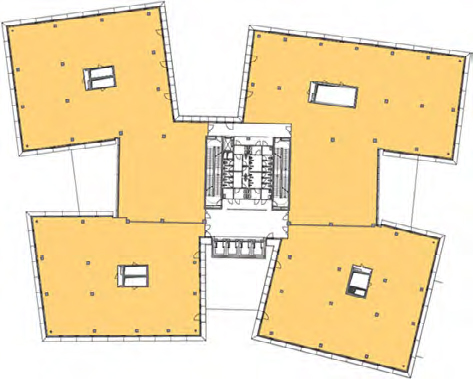 TYPICAL FLOOR