Head of Franz Kafka by David Černý to be restored to original glory
The Head of Franz Kafka, a kinetic sculpture located near Prague's Národní třída boulevard, is to undergo a thorough restoration in the coming weeks. Over several days at the end of September, the outdoor piece of art by David Černý will be taken completely apart. Each of the 42 stainless rotating discs that make up the sculpture will be treated to a thorough check-up and required repairs. The restoration will take several months and will include the installation of a modern rotating system, very much like those used in wind turbines. Head will turn for the last time on September 24th at 9:00 p.m. The estimated date of completion of the reconstruction is the end of this year.
This eleven-metre-tall statue is a technical marvel of the 21st century in the centre of Prague. Forty-two moving panels rotate to create the face of the famous Czech writer Franz Kafka. The statue created by the artist David Černý is situated near the Quadrio Shopping Centre, it combines art with modern technology adopting the traditional "golden hands" of Czech craftsmen. If you haven't already seen it, watch the "The Metamorphosis". Wait for all of the panels to align and reveal the face of Kafka!
Original artist: David Černý - www.musoleum.cz
This work of art was financed by CPI Property Group.
Construction and building procedures of Kafka's moving head
Preparation
During the construction, a 3D model was created with a data volume of more than 20 GB
Solution
The design uses innovative solutions in the field of industrial automation and robotics.
Documentation
For the construction, the model was drawn into 2039 technical drawings.
Building
The construction took place from April to October 2014. The delivery of special parts took months.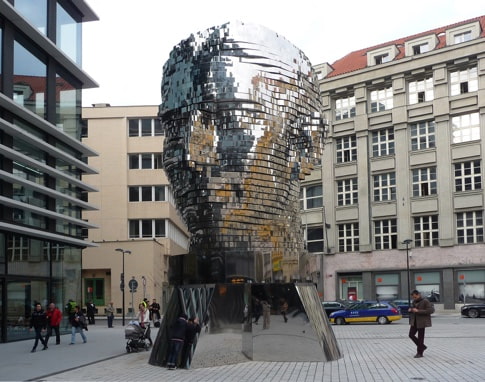 1800 h
Developers, designers and programmers